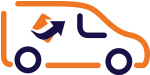 Urban racing is our specialty!
PSupport your shipments from 1 gram to 3 tons.
Collection in less than an hour, for delivery in the stride or an unbeatable eco-web formula from 12€HT delivered in the ½ day!
ENVOYÉ SPÉCIAL offers you the best quality, time and price offer on the market!
Secure your shipments and offer your recipient customers direct delivery, while saving on your transport budget.
We ensure and represent your added value to your customers:
WE ARE YOUR ENVOYE SPECIAL!

An imperative? A sensitive delivery? (Service parts, chain break, sample, prototype, late penalties, etc.)
REGARDLESS OF THE PLACE OF REMOVAL AND THE DESTINATION,
WE HAVE THE SOLUTION!
Our experts offer you a suitable solution and we are committed to delivery times, regardless of volume, distance, collection and delivery locations.
Support in less than 45 minutes!
WHATEVER YOUR MISSION WE ACCEPT IT!
Is this an emergency?
Discover our ONE WAY offer and pay only the one way!

Need temporary or long-term storage?
Mission possible for ENVOYE SPECIAL with the contribution of multiple transport solutions or made available to your customers or employees.
By choosing us, you guarantee to your customers a 24/7 delivery option!
We offer remote stock solutions combined with the transport solutions offered within the group (last-mile delivery, emergency, chartering, distribution, etc.)